What Is Graston Therapy
The Graston Technique enhances the doctor's ability to detect scar tissue or restrictions in the affected areas. Scar tissue limits range of motion, and in many instances causes pain, which prevents the patient from functioning as he or she did before the injury.
When Is Graston Therapy Used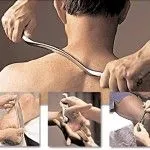 This therapy effectively treats headaches, carpal tunnel syndrome, foot pain and many other conditions. Our doctors use Graston instruments to comb over and "catch" on scar tissue, which immediately identifies the areas of restriction. Once the tissue has been identified, the instruments are used to break up the scar tissue so it can be absorbed by the body. Clinical studies continue to document the success of the Graston Technique. Historically, the Graston Technique has resolved 87% or more of all conditions treated. This therapy achieves better outcomes when compared to traditional therapies and resolves injuries that have failed to respond to other therapies.
Save